Business Spotlight: Chubby Jerk & BBQ
This week's Business Spotlight shines on Chubby Jerk & BBQ! This restaurant is located at 5005 50 Ave and serves authentic Caribbean food right in the heart of Downtown Red Deer. We spoke with the owner to learn more about this unique establishment!
What is your business?

Chubby Jerk & BBQ Kitchen.
When did your business open?
27 September, 2018.
What makes your business unique?
I'm Caribbean!
What are some products/services that you offer?
Carribean food – try the jerk chicken!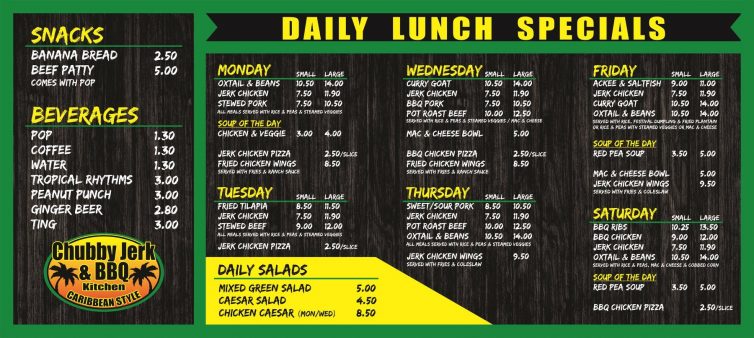 Why did you choose Downtown Red Deer as the location for your business?

The only place I could get a place to rent to do my business.
What do you think makes Downtown vibrant?

Ross Street Patio.
Finish this sentence: I love Downtown because…
It is beautiful.
Check out Chubby Jerk & BBQ Kitchen for great food and an awesome atmosphere! Follow them for updates:
Facebook: Chubby Jerk & BBQ Facebook Page
Check back next week for another business spotlight! If you would like to see your Downtown business spotlighted, please contact us at 403-340-8696 or info@downtownreddeer.com.